FedEx Field Seating Chart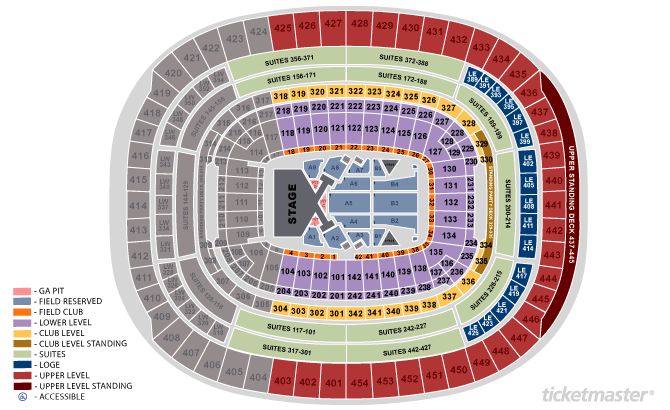 Seating at the FedExField is spread out across five floors: the Lower Level, the Club Level, the Lower and Upper Suite Levels, and the Upper Level. Three of these levels: The Lower, Club, and Upper Levels are named in honor of significant figures of the Redskins, NFL, and Washington, D.C. area. The Lower Level is officially named "George Preston Marshall Lower Level", The Club is named "Joe Gibbs Club Level, and The Upper Level is called "Pete Rozelle Upper Level." 
VIP Suites
The Suite Levels have 243 suite, lounge, and Owner's Club luxury boxes and 15,044 club seats. Five rows of "Dream Seats" have been created since Daniel Snyder purchased the Redskins. These are located in front of the previous first row of the lower level, reaching nearly to field level!
Seating is clearly and intuitively laid out, but if you have any trouble finding your assigned seats, please ask a member of staff for assistance, who will be only too happy to help you.
Reserve your seat and get your tickets today!
For ticket information and to find out more about our preferred ticket supplier please view the FedEx Field tickets information page.
For all upcoming events and to purchase tickets for your desired show, please visit the FedEx Field events schedule page.